Lexitas + Stenovate
Lexitas is partnering with Stenovate to offer 40% OFF 3 MONTHS of Stenovate to all Lexitas reporters with coupon code LEXITAS40. On Stenovate's online platform, reporters can organize their workload, connect with 5-star, community-vetted scopists and proofreaders, and collaborate efficiently all in one, seamless tool.
Sign Up
Schedule Demo
How it Works
Find Reputable Scopists & Proofreaders
On Stenovate's job boards, reporters can find reputable scopists and proofreaders to delegate their scoping (editing) and proofing. PLUS, every member's profile includes Ratings & Reviews to make the process of finding, vetting, and hiring help much easier.
Collaborate Efficiently
Stenovate is designed to be a reporter's best friend, especially when working with scopists and proofreaders. Like a transcript assembly line!
Organize Details & Files
Stenovate automatically prioritizes work by due date and keeps details, CAT files, audio, exhibits, spellings, and communication in one place.
Track Progress
Reporters receive realtime notifications as pages and tasks are completed by their scopists and proofreaders.

Reduce Friction
With Stenovate's all-in-one system, reporters no longer need to collaborate across disjointed tools like Dropbox, Google Sheets, email, social media, and texting.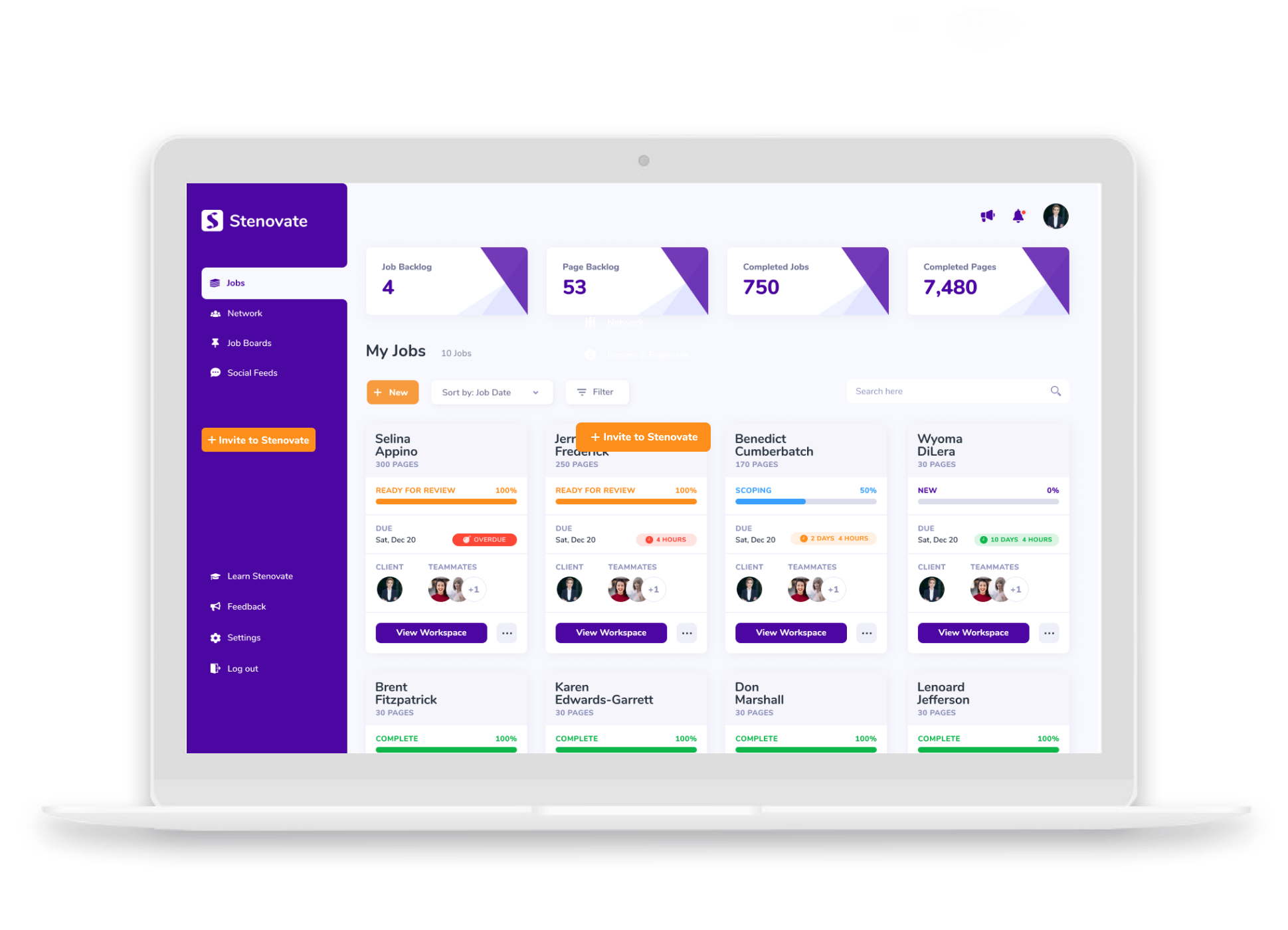 FAQs
How much is a monthly subscription of Stenovate?
For reporters, a monthly subscription to Stenovate is $34/month after a free 30-day trial. With the coupon code LEXITAS40, reporters will pay $20.40/month for 3 months following their free 30-day trial. After that, the following months will be billed at $34/month.
I have their own process for editing and proofing transcripts. Why do I need Stenovate?
Stenovate streamlines the editing and proofing process by including all of the tools IN ONE PLACE. Reporters can create digital workspaces for each job to organize and share job details, CAT, audio, and exhibit files, spellings, track progress, and even communicate with their scopist and/or proofreader. Plus, with realtime notifications, they'll know the status of their transcripts at all times. It's a game-changer built specifically for court reporters.
How do I know the scopists and proofreaders on Stenovate are quality?
Finding, vetting, and hiring a good scopist and/or proofreader can be a daunting task for any reporter! That's why every Stenovate member profile includes Ratings & Reviews. This is where members have been rated on 3 critical criteria: Quality, Professionalism, and Adherence to Deadlines. Reporters can read what other reporters have to say about this member to better understand what it is like to work with them. Some scopists and proofreaders may not have reviews yet because they are new to Stenovate. In this case, we recommend reporters ask for references and start with a small test transcript.
Why would I want to hire scopists and proofreaders instead of doing it on their own?
Quality scopists and proofreaders are well worth the investment. For every hour a reporter is writing on the job at least one hour is spent scoping and proofing. That's unpaid time for them, and time that could be spent covering additional jobs! By outsourcing the editing and proofing, you will be able to take on more jobs while increasing your overall profit-per-hour. The math makes sense.
Does Stenovate charge a commission for use of their job boards and collaboration software?
NO. Stenovate does not take a commission for any work produced utilizing Stenovate's tools. The only fee Stenovate charges is the flat quarterly/annual rate that provides reporters with unlimited access. Of course, reporters are responsible for the page rate they negotiate with the scopist and/or proofreaders they work with in Stenovate.
Can I bring their favorite scopists and proofreaders to Stenovate?
YES! Working with a team is where Stenovate truly shines. You can request that their scopists and proofreaders sign up for the 30-day FREE trial and then email support@stenovate.com to discuss a team account.
Talk to us!
Schedule time with one of our product specialists and get all your questions answered.  We're here to help!