When you are browsing Amazon for Christmas gifts or planning a vacation and looking at hotels and restaurants, what's the first thing you look at?  
The reviews, of course! 
Ratings and reviews dramatically improve the likelihood that you'll be satisfied with your new purchase and that your vacation will meet your expectations. 
This same methodology can be applied to finding, vetting, and hiring people as well!  
Stenovate's members' profiles now include ratings and reviews, simplifying the arduous process of finding, vetting, and hiring new teammates (or finding new reporter clients)!  
Let's unbox this new feature together!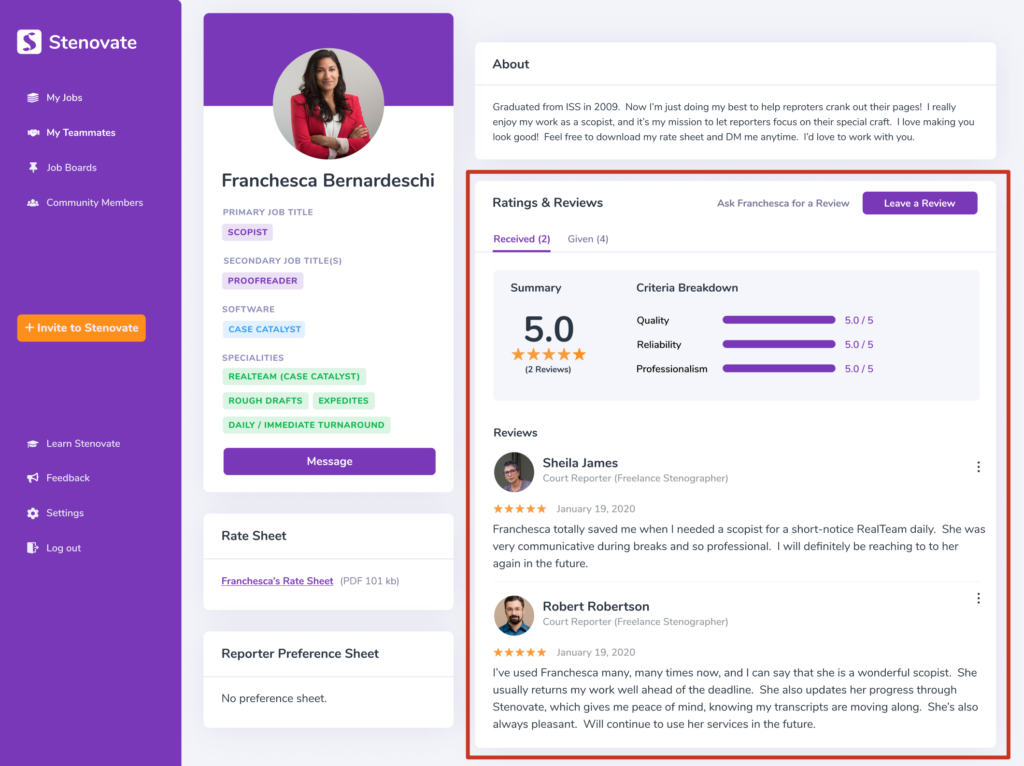 The Foundation
A significant amount of care, research, and even scrutiny went into designing the rating and review system.  In fact, this particular feature caused our small team to look back and dig deep into the core principles Stenovate was founded upon.  
Stenovate has many values that drive our mission to elevate and empower the reporting community, but we are always striving to be three things, if nothing else:Â 
Ethical

Transparent

Professional 
Over the last decade, we have read more horror stories than we care to count about shoddy work quality or a scopist who ghosted on a 300-page transcript right before it was due.  It breaks our hearts, watching reporters stress or hear about scopists who don't get paid.  (Yes, reporters are sometimes at fault too.  The pendulum swings both ways!) 
So how does one little steno startup, if you will, help raise the bar and introduce accountability to our hard-working community?
By implementing a system designed to give credit where credit is due (and even high praise!) and allow members to also speak the truth when someone is less than reliable or unprofessional.  
The Controversy
Many reporters use Facebook groups dedicated to connecting with scopists and proofreaders to find new teammates. Unfortunately, on Facebook, group members can post, comment, and reply endlessly, meaning someone can always have "the last word," which makes it impossible to leave truly helpful, constructive feedback for others.
Some of the moderators of these groups will even delete posts that call out a specific group member in an effort to keep the group drama-free, which has its pros and cons.  Ultimately, this is the best way to mitigate mudslinging and avoid hurt feelings, but it also protects the "bad apples" and allows them to become repeat offenders. 
Even if the moderators do allow for criticism, Facebook's "feed" design will eventually push down the whistleblower's post and it will vanish into the Facebook archives of things you will never see again and likely forget.  
Because it's hard for reporters to share honest feedback, we've heard of some reporters keeping a "blacklist" of names which they may or may not privately share if you ask, which is potentially beneficial but inefficient and doesn't really solve any problems for the community as a whole when no one is held accountable.  
Whether you have a "blacklist" or not, vetting is still important and requires time and a process, which we discussed in one of our previous blogs, How to Find, Vet, and Hire Scopists and Proofreaders (without ratings & reviews).
Ratings & Reviews, Unveiled 
After researching, analyzing, and iterating, we developed a system that we are confident will achieve the goal of "raising the bar" in our niche community, as well as implemented some simple community guidelines that remove us, as the Stenovate team, from being the ultimate judge and jury.  
Stenovate's Ratings & Reviews are given based on three critical criteria: 
Work Quality 

Professionalism

Adherence to Deadlines (Teammates) / Timely Payment (Reporters)Â 
Rating specifically in these key areas provides a simple but effective method of evaluating performance.  The overall rating is an average of the three criteria listed above, giving a balance to these important components. 
In addition to the star rating, the reviewer has the option to leave additional text, explaining their rationale for the rating, which you'll find more often than not, is a glowing review.
Opportunity is Knocking
Reporters
Finding and vetting quality teammates can be time consuming and even intimidating.  Stenovate is taking the pain out of the process.  You have the power to connect with capable, competent, reliable help.  
By outsourcing your "homework" to trustworthy scopists and proofreaders, you can spend more time in the reporter chair, earning more income, while actually putting in less hours altogether.  There are very real financial benefits to hiring scopists and proofreaders.  
Ready to hire a new teammate or two?  Join the growing community. 
Scopists & Proofreaders
Are you seeking new clients or buried in pages?  
If you're seeking new reporting clients, there are regular posts in Stenovate's job boards, and we notify you via email about work opportunities that match your services and software (Case CAT, Eclipse, ProCAT, StenoCAT, DigitalCAT, etc.) 
If you're already swimming in pages with happy clients, there is absolutely no better time to ask them to leave you a rating & review.  Being proactive now sets you up for long-term success and gives you an edge over the competition. 
As Cassandra Caldarella, a brilliant reporter and founder of CoverCrow, will tell you:  It's important to market yourself!  What better way to do so than 5-star reviews from people who already love working with you?
Ready to look for new clients and build your profile?   Join the growing community.