We're just going to come out and say it. For transcript professionals, Stenovate kicks Dropbox's boo-tay in storing files for several reasons.
Yes, you heard me. I said we're better than Dropbox (and just as secure) because Stenovate is specifically built for transcript professionals. Your workflow is laid out systematically: write, scope, proof, and review, frequently referencing helpful documents (notices, exhibits, etc.) on the side. Shouldn't your files be set up for that, too?
Dropbox is pretty mainstream and isn't too complicated, but it still needs configuring, and it's certainly not optimal for transcript professionals. Every Dropbox file has to be created, named, shared, and managed. It's second nature for a lot of us, so we don't think it's a burden. Until something better comes along!
Built For YOU
We've eliminated the process of needing to create, name, share, and manage files altogether by providing you a special file sharing space for Every. Single. Transcript. Once you send an offer to a teammate and they accept, your teammate can access the files for this transcript (and only this specific transcript). No need to share any folders. Just add teammates, upload your files in the transcript's dedicated file screen, and you're ready to rock!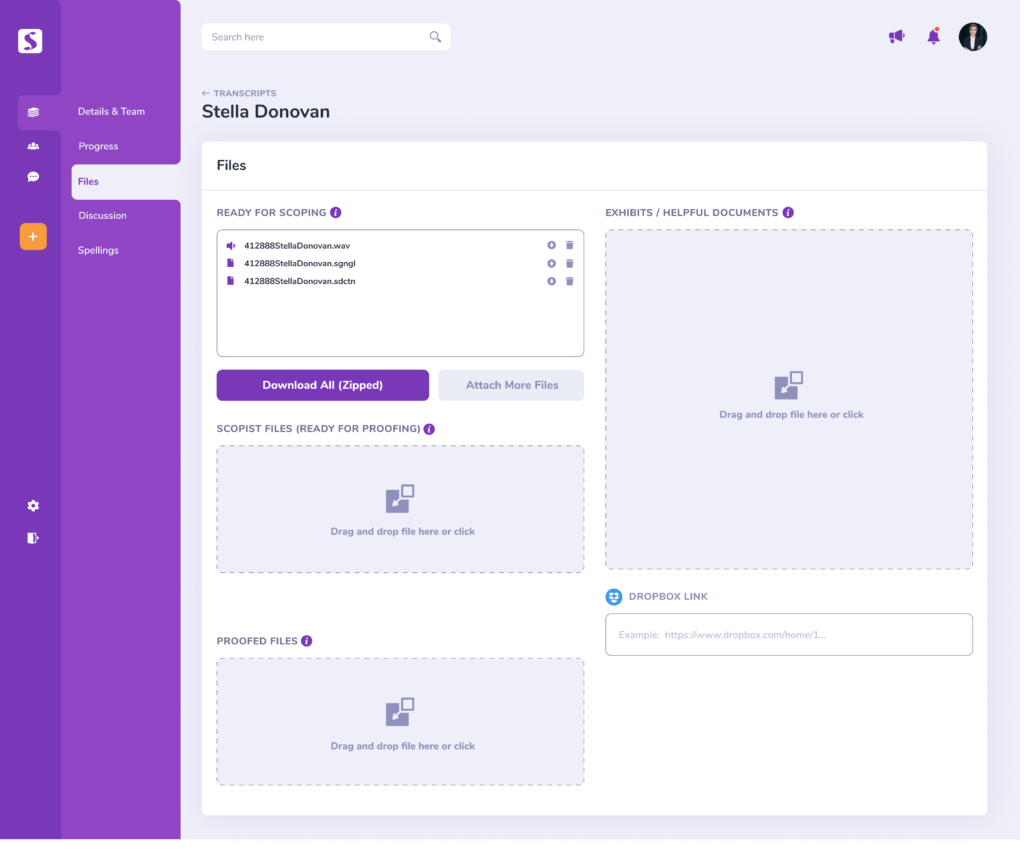 Meet "Files," your new bestie for getting things done! Call them what you will, these "boxes" or "folders" are a smarter way to organize and move files between transcript collaborators.
Ready for Scoping – Upload your CAT file, audio, dictionaries, etc.
Ready for Proofing – Upload PDFs and CAT files with or without audio.
Proofed Files – Upload marked-up PDFs or proofed CAT files.
Exhibits / Helpful Documents – Upload anything else that might be helpful to your team! Notices of depositions, word lists, exhibits, etc.
We did add a Dropbox link field specifically to accommodate any CaseCAT fans who use Work Units and haven't broken into RealTeam yet. We're big fans of both RealTeam and Connection Magic. Even if you're doing daily work, whether through RealTeam, Connection Magic, or Work Units, this files section is still really helpful for transferring anything you and your team need. And it's readily available immediately without having to configure a new file for your daily team.
Built For Versatility
Obviously, you might cover a transcript without a scopist or proofreader. Sometimes you just want to do it yourself, and we get that. No need to upload files? No problem. Just leave this page empty.
You might use a scopist and a proofreader. gasp! Do some reporters do that?! Uh…yes. And we think you should consider it too! As long as your eyes are the final review and you're doing due diligence to ensure your team is doing great work, you should be proud to put your name on the cert page.
Check out how you can verify you're hiring quality teammates using Stenovate's new Network.
If you utilize this double-up method (a scopist and a proofreader), it can save you loads of time, and you can pick up more jobs during this "shortage" that everyone is talking about. The Stenovate file boxes keep everything nice and tidy. Once your scopist and proofreader are done, you can grab the scoped CAT file and the proofed PDFs and make final edits while you do a final review.
We'll touch on the ethics and economics behind this method later — we promise — but the bottom line is, you should do what works for you, and Stenovate is here to simplify and accommodate your file transfer needs!
If you're not already on the waitlist, what are you waiting for?! We have an exclusive offer to those coming before the big launch. And joining the waitlist doesn't require a commitment or a credit card, just your email so we can keep you updated. And don't worry. We hate spam, too.