Ready to get more done and have more fun? Stenovate has just released two, brand-new features:
Scoping and Proofing Job Boards
Social Feeds
These features are now LIVE for all Stenovate users
Scopist and Proofreader Job Boards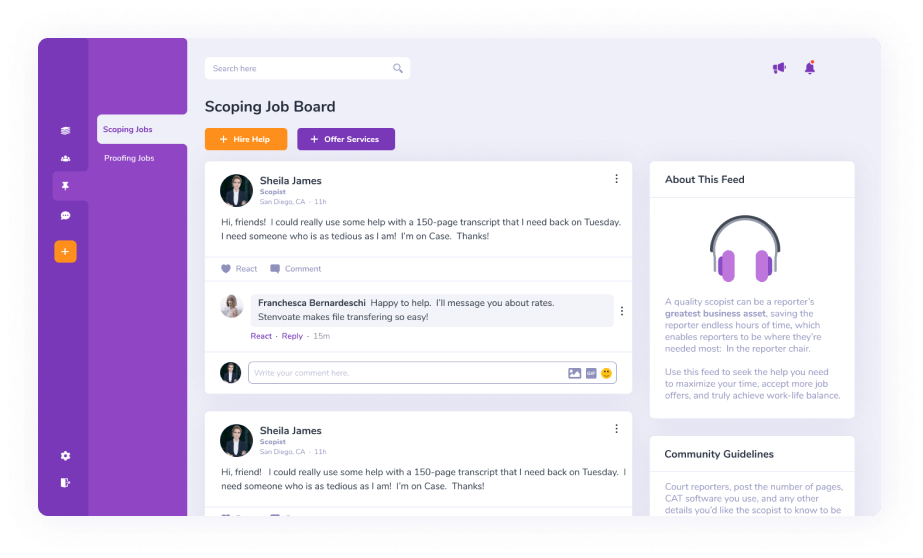 Need help in a pinch? Preparing for the coming surge of Covid-related court cases? Looking for long-term teammates who can help you grow your business?
Stop aimlessly scouring Facebook groups and start Stenovating – with Stenovate Job Boards!
Stenovate Job Boards are places where court reporters can find talented and professional teammates. Simply post your job and watch the offers roll in! Then you can negotiate rates, share project files, and get started quickly.
For scopists and proofreaders, the Job Boards are your chance to make new connections and find more work. Offer your services and respond to job posts with ease. You'll even get notifications for new job opportunities in your email inbox!

Start building your team or client base by checking out the Scoping and Proofing Job Boards on Stenovate.
Social Feeds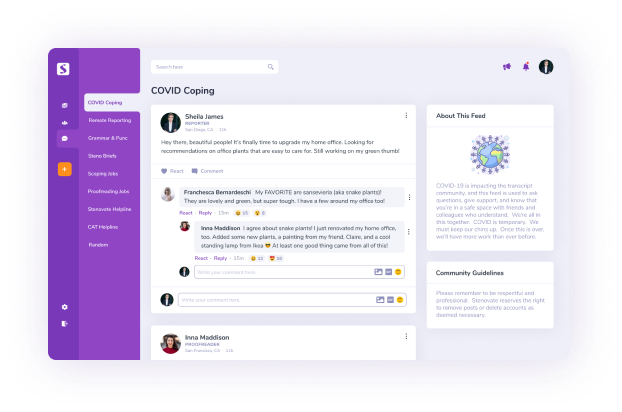 Ready to take your transcript career to the next level? Want to have a little fun along the way?
Social feeds are your new, virtual cocktail hour – Stenovate-style! It's a place for transcript professionals to chat, learn, share ideas, and build community.
There are social feed channels for all kinds of topics, with more added regularly:
COVID Coping
Remote Reporting
Grammar & Punctuation
Steno Briefs
Stenovate Helpline
CAT Helpline
Random
Grow your network and meet new friends. What's not to love?
Get Started with Job Boards and Social Feeds
(And let us know what you think!)
Ready to try out Stenovate's latest features? Login to Stenovate (or sign-up here) and look for 'Job Boards' and 'Social Feeds' on the left-hand navigation bar: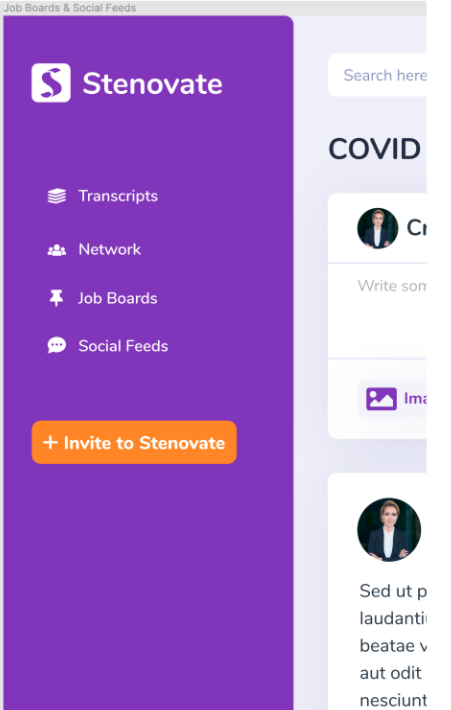 And remember: Stenovate is better with friends. Invite your colleagues and teammates to join you on the ONLY transcript management platform for the court reporting community.
Happy Stenovating!