Shaunise Day, steno advocate and event planner extraordinaire, hosted one of the most remarkable steno-centric events we've seen in the last decade.  If you've ever attended a multi-day conference, you know there is a LOT to organize.
She almost single-handedly, pulled together a beautiful venue, a full-blown speed contest, an engaging and exciting lineup of presenters with CEU approval, AND networking sessions that included delectable appetizers, libations, and live music. It really was what stenographer's dreams are made of.  
If you didn't make it to this fabulous event, we're here to give you the recap!
Thursday
The Steno in the City:  Fearless Stenographer's Conference took place Thursday, March 24 through Saturday, March 26, 2022, in Houston, Texas, at the Omni Hotel. 
Thursday morning kicked off the SPEED in the City contest, where anyone could register to participate.  There was no prerequisite to sit for the contest, which is a fun twist!  The contest swallowed up the morning hours and a nice break could be taken by all participants before the evening mixer began. 
Around 6:00, guests commuted a short distance from the hotel to a posh building dubbed as "The Ballroom at Bayou Place," where attendees were greeted by festively designed and decorated stairs, perfect for photo opportunities.  
At the top of the landing was a red carpet with live interviews happening before you entered the main event space, which you'll be able to hear on the Confessions of a Stenographer podcast in the next couple of weeks. 
In the main event space, post interviews, several speakers took the stage including The President of the National Bar Assocation, Carlos Moore, Esq, Council Member Edward Pollard, Esq, Harris County District, The Honorable Judge Linda Marie Dunson and special guest speakers Derrick A. Reed, Esq., and Stacey E. Raikes, RMR, CRR, Debbie Dibble, and Carl Sauceda, NCRA current and past president.  
There were servers circulating with hors-d'Å"uvres and a table set up with a spread of thoughtful and satisfying nosh.  Drinks were flowing, stenographers were mingling, and the dance floor was alive as the band began to play. 
As if this wasn't enough to make for a very enjoyable social event, the details were so well-curated.  There was an ice sculpture with wording carved out: "The Fearless Stenographers Conference" and a 360-degree rotating spinning camera for those who wanted to have a spirited selfie in remembrance of this lively social event. 
Friday
Friday was still fun and fabulous, but it was also very focused.  Focused on education and motivation! There was no lack of insight and inspiration from steno Allstar Keynote Speakers, Brenda Countz, Allie Hall, and Mark Kislingbury, as well as several others.  For the full lineup of incredible speakers, check out the full schedule here.
As many of you already know, Mark Kislingbury, the man – no, the LEGEND, did something we've never seen before.  He decided to try to top his own Guiness Book record live, on stage, in front of a crowd of onlooking stenographers and students (talk about #StenoInspo).  And he did it while screen sharing as he wrote and edited the test.  And guess what?  He pulled it off!  Mark Kislingbury passed his take at a whopping 370 words per minute with 95.4% accuracy!  I can tell you, there were a lot of cheers and tears in that room, witnessing such a magical moment!
The final session closed with a panel of influencers and innovators within our profession, moderated by the hilarious #NewProfessional Chris DeGrazio.  The panel included: 
These women shared how they are thinking outside the box, promoting, building, and unifying the steno community!
Friday night was met with more positive energy while attendees mingled with vendors at the "Steno United" Cake and Cocktail Networking Mixer. 
 
Saturday
The momentum continued Saturday morning with even a new round of engaging sessions, including a second appearance by Miss Allie Hall, speaking about efficiency, followed by Angela Grant, Shacara Mapp, and Candice Andino, magnifying and amplifying the importance of certifications,the Certs Matter session and wrapping up the lineup with tips for evolving with technology with speaker Jessie Gorry. 
An awards ceremony was held during brunch! 
Steno People's Choice Award – Stephanie Hicks

Philanthropy Award – Allie Hall

The Lifetime Achievement Award – Kim Xavier
The SPEED in the City results were as follows:Â 
220L – 1st place; 7 errors; 99.4 percent – Karen Tyler

260JC – 1st place; 4 errors; 99.69 percent – Karen Tyler

260JC – 2nd place; 18 errors; 98.6 percent – Shacara Mapp

260JC – 3rd place; 38 errors; 97.1 percent – Jennifer Miller

260JC – 4th place; 53 errors; 95.92 percent – Kimberly Xavier

280T – 1st place; 13 errors; 99.1 percent – Karen Tyler

2nd place (4M pass) – 40 errors – Kimberly Xavier

3rd place tie (4M pass) – 55 errors – Jennifer Miller and Shacara Mapp (Tie)
Post the awards brunch, group photos in fashionable color block were captured to commemorate this grand affair.  And then, alas, it was time for the heartfelt farewells.  It's hard to say goodbye to your steno friends!

But don't worry.  There are rumors that Shaunise Day has big plans for furniture Steno in the City events!  And speaking of the lovely lady, let's give credit where credit is OVERDUE.
The Woman Behind the Scenes (and running everywhere in between)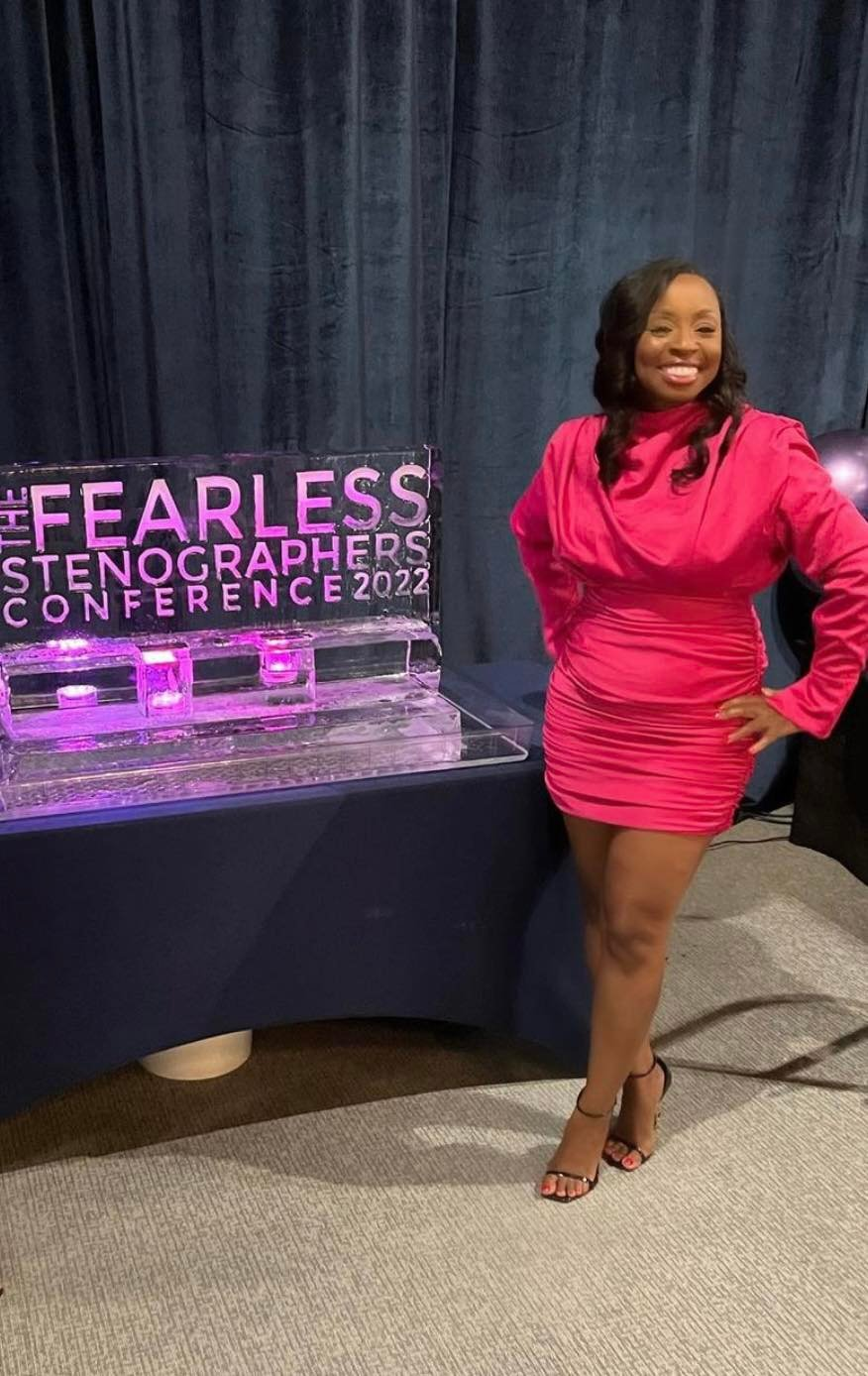 Let us simply say this:Â  Greatness does not come without great effort.
This was only Shaunise's second go at creating an event to be remembered for the stenography community.  Her efforts were tireless (at least until the soiree was over).  This woman deserves 50 gold medals and a month-long beach vacation.  
What would take multiple committees for some organizations, Shaunise Day managed to pull off nearly flawlessly and almost entirely single-handedly!  While she humbly thanks those who contributed, we can tell you that she essentially pieced this event together by herself.  And she'd never tell you that she has paid for many items out of pocket, all in the name of empowering, educating, promoting, and unifying the profession that she deeply loves:  Steno. 
She covered everything from negotiating venues to hotel block bookings, to technology (Zoom streaming, photographers, videographers, microphones, speaker systems, audio malfunctions), event promotion, food and beverage, entertainment, speaker scheduling, CEU approval, and everything that falls under the purview of an event coordinator.  And when things went wrong, Shaunise Day was the definition of grace under fire. 
The woman has passion and class, and we are so glad that she is here for us.  
We all owe a debt of gratitude to the relentless work that Shaunise Day does for our very niche profession.  And what's the best way to thank her and perpetuate Steno in the City events?!  Any of the following! 
Volunteer time and/or talents

Become a vendor (Are you creating something stenographers can benefit from?!  Yaasss!)

Sponsor her incredible work by hosting a session, mixer, speed contest, or another event!

Donate to Steno in the City, which will allow for these fabulous events to continue
To reach out to Shaunise with question or for more information about Steno in the City, contact her at info@stenointhecity.com. 
If there is anything our small Stenovate team knows about, it's this:  It's easy to start something new when you have passion and inspiration.  It is hard to carry on without community support.  To take action if you want the option to participate in future Steno in the City events.  And believe us when we say, you really, truly don't want to miss them.

And to Shaunise Day, you are a steno queen – a beloved leader in our community, and we thank you from the very, very bottom of our hearts.